PSN uses Parent Partners (parents with lived experience of overcoming similar struggles) to assist fathers by working one-on-one with dads who want to be better parents and more involved in their children's lives. We work closely with the Rhode Island Department of Children, Youth & Families (DCYF) through referrals to help fathers complete their service goals on the path towards reunification. We also welcome community and self-referrals.  With a goal-oriented process and an empathetic approach, fathers of all stages and backgrounds can benefit.
In 2017, PSN was contracted by DCYF to lead the coordination of the Rhode Island Fatherhood Initiative (RIFI) to increase father engagement and improve outcomes for children and families.
PSN is proud to host a fatherhood group every Wednesday at 5:30pm for any father seeking support or able to provide it.  This group ranges from teen fathers to grandfathers all coming together sharing experiences and learning from each other.  This voluntary group is great for dads going through divorce/separation, involved with DCYF, first time fathers, and more; all who identify as a father are welcome to attend.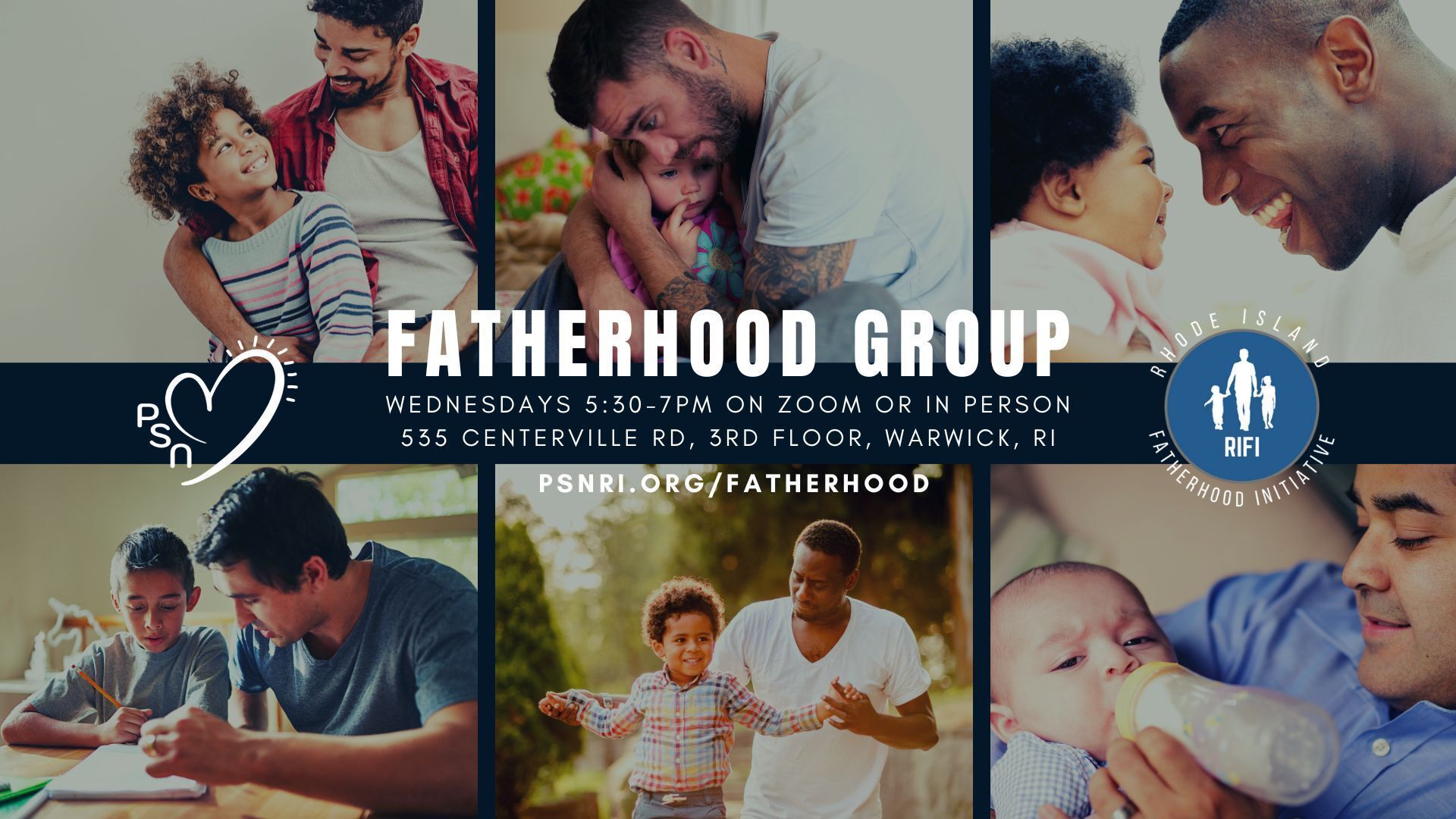 RIFI hybrid group Wednesdays 5:30-7pm online or in person at 535 Centerville Rd, Third Floor, Warwick
Along with support and community, our goals include engaging fathers to provide authentic input to state agencies and programs; partner with fathers to provide leadership and input to the RIFI steering committee; and work with father leaders to increase their knowledge and advocacy skills to promote public awareness for policy and practice reform. Together we can make a difference not only in our day to day lives but on a state policy level! While not required this is an option for interested fathers.
PSN leads the Rhode Island Fatherhood Initiative (RIFI) -Fatherhood Family-focused, Interconnected, Resilient, and Essential (FIRE) statewide service delivery program. PSN will work in partnership with the Rhode Island RIFI Steering Committee, Regional Family Community Partnership Program and other state and community-based agencies to deliver the evidenced based Wraparound with Fathers Partners. Wraparound care plans include goals that build upon the key focus areas of promoting and sustaining healthy marriages and relationships, responsible parenting, and economic security.
For more info and to speak to someone fill out the Fatherhood Group Interest Form.
Download informational flyer here
Contact: Lamel Moore at 401-786-3613 cell or l.moore@psnri.org